Mario Party Wiki
Mario Party Wiki is a community that aims to create the best resource for Mario Party. Mario Party is a series of party video games developed by Nintendo as a series of spin-offs from their trademark and highly successful Super Mario series of platformer adventure-style video games.
We are currently editing over 309 articles.
All pages can be edited and you are welcome to join us and contribute to this wiki. Everyone is free to create a new page or edit an existing one.
Also, before beginning to edit, please take a look at our rules.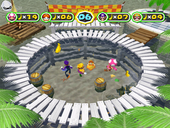 Tally Me Banana
is a Donkey Kong minigame in
Mario Party 6
. Its name is taken from a line in "Day-O (The Banana Boat Song)" by Harry Belefonte. It appears to take place in a tropical area of some kind. The Blooper from the minigame
Blooper Scooper
can be seen in the top left corner of the screen.
Main article: Tally Me Banana

--

Which mode on Mario Party 10 will you play more of?