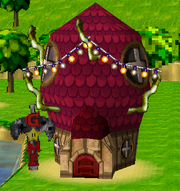 The Mini-Game House is the Mini-Game Mode of Mario Party, where players go to play minigames with friends or alone. It is held by a chubby Toad called Puff. The Mecha Fly Guy can be found and used here once he is purchased from the shop. There is also a separate mode called the Pot O'Skills, which is replaced by the Mini-Game Trial in Mario Party 2, where the players play for coins in minigames as they go around the track of Mini-Game Stadium.
Ad blocker interference detected!
Wikia is a free-to-use site that makes money from advertising. We have a modified experience for viewers using ad blockers

Wikia is not accessible if you've made further modifications. Remove the custom ad blocker rule(s) and the page will load as expected.